Independent system photovoltaic power plant
---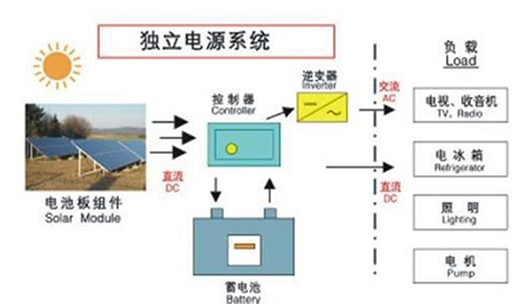 Independent system: Under the illumination of sunlight, the electrical energy generated by the solar cell components is charged to the battery through the controller or directly supplied to the load when meeting the load demand. If the sunlight is insufficient or at night, the battery is controlled by the controller to supply power to the load.
The composition of the off grid system includes battery components, controllers, batteries, off grid inverters, loads, etc.
Installation methods: flat roof installation, color steel tile installation, tile inclined roof installation, and ground power station installation.
Main customer groups: islands, deserts, and nature reserves far from the power grid.
Let's take a 1kW independent system as an example to introduce the load information below
  Table 1. User Load Information Table
Load power consumption(kWh)

See the table below

Working voltage

DC side voltage(V)

48

AC side voltage(V)

220

Working hours(h)

See the table below

Days of standby power(d)

2.5

Place of use

Beijing

Standard average sunshine(h)

4.32
  Table 2. Load itemized statistical table
Electrical appliances

Rated power(W)

Quantity

Electricity consumption hours(h)

Electricity consumption(kWh)

Energy saving light

20

3

6

0.36

Energy saving light

20

4

3

0.24

Energy saving light

11

1

1

0.011

Television

65

1

4

0.26

Signal receiver

30

1

4

0.12

Total

0.991
---