Professor Yin Zhiqiang from Tsinghua University and Zhang Shizhan, Chairman of Hebei Clean Energy Company
---
---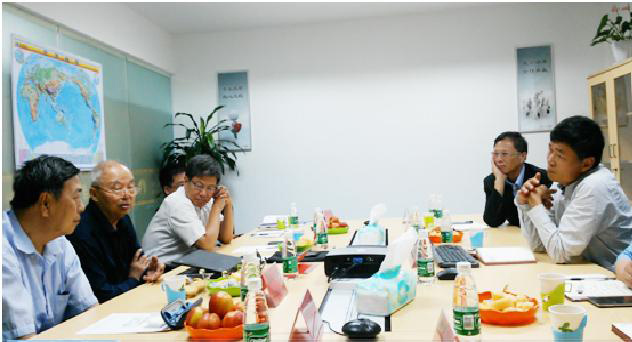 Professor Yin Zhiqiang analyzed the current development status and prospects of the solar energy industry:
1. Solar thermal utilization products have decreased significantly, with China's operating inventory of approximately 400 million square meters in 2014, accounting for more than half of the IEA; The National Energy Administration plans to have an operating capacity of 800 million square meters by 2020. However, Academician Yin stated that without innovation and development, achieving this goal will be difficult in the next five years
2. From the 2013 renewable energy utilization situation released by the International Energy Agency in 2014, it can be seen that the energy generated by wind power is ahead of other industries, followed by photothermal and photovoltaic. Photothermal is the thermal utilization of low-temperature solar energy, and its utilization rate is improving, but there is a downward trend in photothermal power generation
3. In 2012, China accounted for 67% of the world's total operating solar collectors (with/without cover plates and air collectors). Among the world's total operating collectors, vacuum tube collectors accounted for about 65%, flat plate collectors accounted for about 26%, non cover plate collectors accounted for about 8.4%, and air collectors accounted for about 0.6%. In the ranking of solar collectors owned by thousands of people, China ranks 9th in the world.
4. China's three contributions in the field of solar thermal utilization are: Magnetron sputtering AI-N/AI solar absorption coating, compact solar water heater, and all glass heat pipe vacuum solar collector.
Hotspot analysis:
1. Heating: With the development of the economy, the winter heating problem in the southern region of the Yangtze River is becoming increasingly prominent, and the use of new energy is also in line with the environmental protection concept advocated in today's society. In addition, in the promotion and application of household by household, suburban areas and the vast rural areas can complement each other, forming a good virtuous cycle, and reducing system investment and usage costs, which can be accepted by more people.
2. Application of central heating: It is widely used in Germany, Denmark, Zhengding, Luoyang, Tibet and some areas along the railway.
3. Development and application of solar seasonal energy storage: There are demonstration and practical projects in Hebei and Qinghai Tibet, and the air source heat pump (electricity) in the south of the Yangtze River is used alone. There is a huge demand for solar energy products in the food industry, textile industry, chemical industry, refrigeration, and air conditioning.
---