The company formally signed a strategic cooperation agreement with Fengfan Co., Ltd
---
---
On the afternoon of April 8th, 2011, the company and windsail Co., Ltd. formally signed a strategic cooperation agreement in the company's conference hall. Mr. wangweiting, the chairman of the company, Ms. jinxuelian, the executive president, together with senior management of the company and Mr. wangwenbing, the marketing director of windsail Co., Ltd., attended the signing ceremony.
Fengfan Co., Ltd. is currently the strongest, largest and highest market share battery manufacturer in China, and is one of the first batch of key equipment suppliers for the national golden sun project. Its products are widely used throughout the country and even in alpine regions.
At the signing ceremony, Mr. wangweiting, chairman of the company, said: Based on China, China is currently in a critical period of economic development mode transformation. "Vigorously develop new energy and transform to a low-carbon economy", and realize the optimization of economic development with a production mode of low energy consumption, low pollution and low emissions. Based on the international situation, the nuclear leakage crisis is common. The deeper problems exposed behind it are the national energy strategy or energy prospects. As a green renewable resource, solar energy is bound to become the darling of new energy development. The dawn of solar energy industry has arrived. Here, we hope to achieve close and far-reaching cooperation with windsurfing company and jointly make the solar energy market bigger and stronger. Mr. wangwenbing, the marketing director of Fengfan Co., Ltd., also said that he was very honored to cooperate with Zhongtian Tongyuan Solar Technology Co., Ltd. to jointly commit to the green cause of solar energy. Our company is committed to the research and production of solar cells, with rich experience in large-scale projects and projects, and has high-quality guarantees in terms of product quality, price and supply. It is hoped that in the future cooperation, both parties will have more communication and exchanges to jointly expand the market, improve products and become a customer satisfied enterprise.
Under the principle of friendly negotiation and win-win cooperation, the signing ceremony between Zhongtian Tongyuan Solar Technology Co., Ltd. and Fengfan Co., Ltd. was a complete success.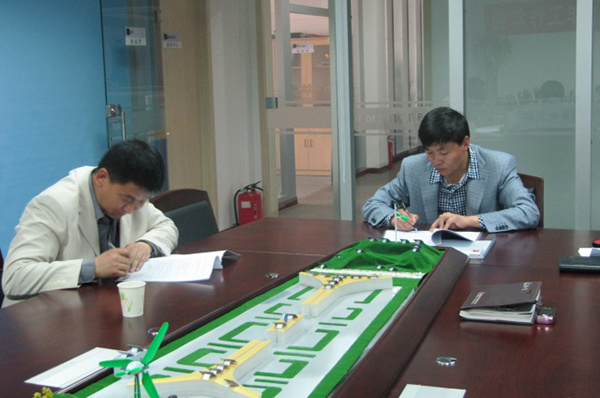 ---