Zhongtian Tongyuan Solar Energy High tech Co., Ltd. independently develops a new solar warning sign
---
---
The new solar smart warning sign independently developed by Zhongtian Tongyuan Solar High tech Co., Ltd. has recently obtained the patent authorization from the China National Intellectual Property Administration (patent number: ZL 2011 2 0138354.4). This warning sign subverts the design and production process, as well as the power consumption performance and cost of traditional solar energy warning signs. It adopts intelligent light control technology, mainstream solar photovoltaic power generation technology, and optical principles in the application of new materials, and can be used for non motorized roads or motor vehicle traffic in areas with scarce traditional power resources, such as township roads, mountain roads, dangerous and winding locations and construction sites, open-pit coal mines, South to North Water Diversion, and West to East Gas Transmission Use in areas such as national defense borders; In addition, the warning sign also has the characteristics of small size, durability, and low power consumption. This product can automatically turn on or off the light source according to the intensity of the light, without manual operation or wiring. It is easy to install, stable and reliable in operation, maintenance free (using lithium-ion batteries), and has a long service life (circuit charging and discharging protection). It can be widely used in cold and hot areas with temperatures ranging from -40 ℃ to 60 ℃ (equipped with supercapacitors), road construction, dangerous road sections, forests, cliffs, national defense boundaries, etc Various places that require warning, such as bridges and waterways.
National regulations - the warning language is the production area of major hazard or the storage area of major hazard; The safety warning signs for major hazard shall be made of solid and durable metal materials, and shall be welded firmly to the ground with the metal column to ensure that the safety warning signs set are damaged due to non-human factors; Safety warning signs must be provided for major hazard.
The importance of setting up warning signs
On November 20, 2009, Xinmin Evening News called for more "life-saving signs" on highways
The driver on duty in the Guizhou bus overturning accident in Shanghai told him a shocking piece of news: during an investigation by the traffic police, he was told that the car was on a bridge at the time of the accident, and the bridge deck was covered in ice. Ma Huanxun has been complaining about why there were no road closures, why there were no warning signs all the way
Local governments attach great importance to forest fire prevention work and have introduced corresponding policies
On November 11, 2011, the People's Government of Libo County, Guizhou Province, along with departments such as power supply, forestry, television, and fire protection, jointly formed a publicity group to carry out fire safety publicity in Jialiang Town, enhancing the local people's awareness of fire, electricity, and forest fire prevention. On the morning of that day, the People's Government of Libo County, power supply, forestry, television station, fire protection and other departments jointly formed a publicity group to carry out fire safety publicity in Jialiang Town. The publicity team distributed scarves, promotional materials, and warning signs printed with fire prevention knowledge to the public, and explained in detail the recent fire cases to the audience who watched the fire case display board. Remind them to pay attention to the use of fire and electricity in daily life to avoid unnecessary casualties of people's lives and property caused by similar fires. At the same time, under the leadership of the mayor of Jialiang Town, the publicity team also went into the village and nailed fire safety signs for the villagers of the Jialiang Village Guanliao Group, reminding local villagers to raise their awareness of safety and fire prevention at any time.
Forest fire prevention is of utmost importance!
? Ordinary warning signs use AC power, which can easily cause fires. If used, the latest research on Zhongtian Tongyuan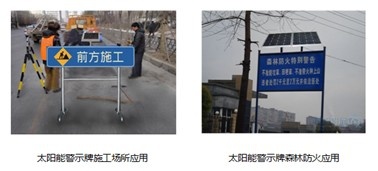 While promoting the concept of solar energy conservation to people, the implementation of safety warnings is imperative! Promoting national safety awareness is urgent! In the United States, a yellow solar energy sign is often seen. If people saw such a sign before those accidents occurred, could it recover countless losses and accidents that should not have happened
As an enterprise with a mission of energy conservation and environmental protection, Zhongtian Tongyuan Solar Energy High tech Co., Ltd., in collaboration with experts from Tsinghua Old Science and Technology Association, has launched the latest product - Solar Intelligent Warning Sign to the market after more than a year of careful preparation. It has an independent control system to prevent excessive charging and discharging, and has a high energy conversion rate, achieving the goal of protecting the warning sign and making it work for a long time! It uses solar energy as its power source, which is safe, energy-saving, green and environmentally friendly. It uses synchronous continuous current reduction and efficient constant current regulation to drive ultra-high brightness LED flashing and emitting light. Not only can the power utilization rate reach over 90%, but the warning font is clear and eye-catching.
Safety hazards are around us, and we must strengthen our attention to safety at all levels! In addition, Zhongtian Tongyuan reminds all friends that when choosing warning signs, they must choose products with guaranteed quality. Although warning signs are small, they are an indispensable element for ensuring the safety of oneself and others.
The purpose of setting up safety warning signs is to strengthen people's safety awareness, create and create a good atmosphere, prevent the occurrence of safety accidents, and create a safe, civilized, and standardized site!
---