Energy saving and environmental protection is a Green Revolution
---
---
China Daily, July 10th (Reporter Xie Mang)
Recently, the 6th World Environmental Protection (Economy and Environment) Conference was successfully held at the China Hotel in Beijing. Wang Weiting, chairman of Zhongtian Tongyuan Solar High tech Co., Ltd., said in an exclusive interview with china.com that Zhongtian Tongyuan has made many achievements in solar energy, made many innovative breakthroughs in independent research and development, and energy conservation and environmental protection is a Green Revolution.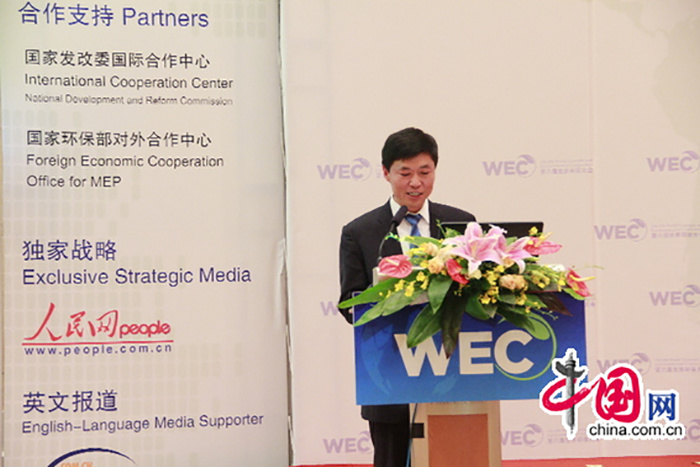 Mr. Wang Weiting, Chairman of Zhongtian Tongyuan Solar Energy High tech Co., Ltd
Wang Weiting stated that Zhongtian Tongyuan has chosen Tsinghua University as an important technological partner, targeting some relatively short technical fields. After several years of research and development accumulation, important breakthroughs include the following three points:
1. There are new technological innovations and solutions in urban energy conservation, intelligent conversion control, and LED lighting secondary energy conservation.
2. In terms of solar energy building integration, the main design service life is to achieve the same lifespan as the building.
3. The application research of solar tube hot spot comprehensive utilization technology, as well as innovative high-tech that can meet the production and daily needs of rural, urban, and residential areas such as lighting, heating, bathing, and cooking without consuming fossil energy.
When discussing the impact of solar energy as a new energy source on traditional energy sources such as coal and oil, Wang Weiting believes that with the increasing global awareness of energy conservation and environmental protection, it is a historical trend for new energy sources represented by solar energy to gradually replace traditional energy sources. This is because traditional energy reserves are limited and non renewable, and more importantly, the extraction and application of traditional energy sources have led to the worsening of the environment. But this process will be very long, so the impact of new energy on traditional energy is very limited in the short term.
Whether a company values environmental protection or not is inseparable from its cultural values. The success of Zhongtian in solar energy is closely related to the company's environmental philosophy. Making a company smaller is one's own growth, and it is social and national. The corporate culture of "conservation, environmental protection, creation, and sharing" proposed by Zhongtian Tongyuan is no different from other enterprises. Wang Weiting emphasized that "the wealth and value created by society, enterprises, and the people are shared with the country, the people, and the employees. This corporate culture is exactly what we pursue." A circular production of solar energy that continuously benefits the production and living needs of the people can also contribute to our environmental protection.
---